Any ankle injury can be quite painful.  It's usually safe to try home remedies for a while.  Seek immediate medical attention in an emergency room for severe pain, cannot put weight on the foot, or swelling, especially after an injury.  An ankle pain that gets worse needs medical evaluation.  If you have an open wound or ankle looks deformed, seek attention from a trained ankle specialist in the Ocean County area.  For signs of infection, such as redness, warmth and tenderness in the affected area or a fever greater than 100 F, a prescription of an antibiotic will be required.  Come see Garden State Foot & Ankle Group of Toms River if you have persistent swelling that doesn't improve after 2 to 5 days of home treatment and persistent pain that doesn't improve after several weeks.
Ankle Injuries and Pain | Ocean County Ankle Specialist
Self-care
For many ankle injuries, self-care measures ease the pain.  Rice is regime that includes:
Rest.  Keep weight off the ankle as much as possible.  Take a break from regular activities.
Ice. Place an ice pack or bag of frozen peas on the ankle for 15 to 20 minutes three times a day.
Compression.  Wrap the area with a compression bandage to reduce swelling, but make sure the toes stay pink and warm.
Elevation.  Raise the foot above the level of the heart to help reduce swelling.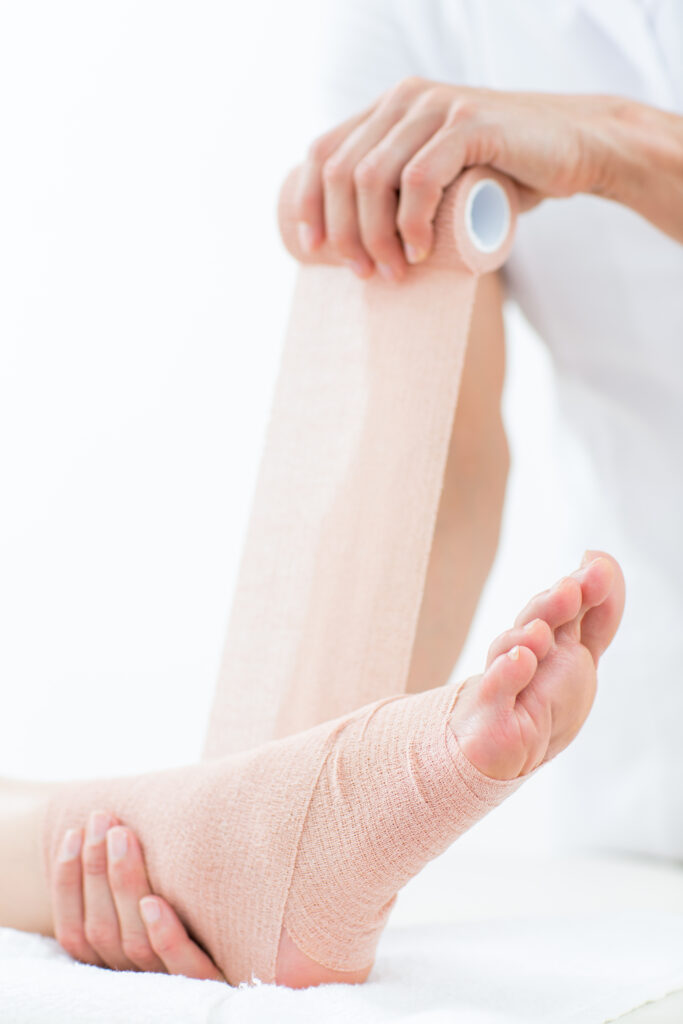 Pain medicines
Medicines such as ibuprofen (Advil, Motrin IB) and naproxen sodium (Aleve) can ease pain and aid healing.  Even with the best of care, the ankle might swell, be stiff or hurt for several weeks.  This is most likely to be first thing in the morning or after activity.  Always discuss adding medication to an existing medical regime with your doctor or Nurse Practitioner.  Over the counter medications can be harmful if combined with some blood pressure and heart medications.
Ankle Sprains
Unfortunately, a mild ankle gives a lot of people a false sense of security regarding their sprain. The truth is that there are some extremely good reasons you should always seek a professional evaluation from an Ocean County ankle injury doctor directly, even if significant treatment interventions are not warranted in your case.
Ankle sprains could affect one or more ligaments that support and stabilize your ankle joint and range from mild to severe.   If you have a grade II or grade III sprain, you are probably already dealing with pretty severe pain, instability in your ankle joint, and a decent amount of bruising. Don't kid yourself—that's a serious injury, and you need medical attention ASAP.
Grade I sprains, on the other hand, could be more subtle.  One or numerous ligaments have been overstretched but not torn in this instance.  There's a decent chance you will still be able to put weight on your foot with just mild discomfort—and you might well be tempted to do so, particularly if you've been told to just "walk it off".
Treatment
The single biggest risk factor for getting an ankle sprain is whether you have already had an ankle sprain in the past.  As we said, relatively mild ankle sprains could often be treated successfully at home.  That can be achieved through RICE and, when appropriate, rehabbing your ankle through physical therapy.  However, the proper steps must be taken in the proper order.  You shouldn't go too hard too soon and risk re-aggravating your injury.  Nor do you should leave your rehab incomplete, leading to an ankle that isn't as strong or flexible as before the sprain.
If your ankle cannot fully heal and recover, there's a greatly increased risk of recurring sprain.  And the more sprains you wind up sustaining, the greater the likelihood that the joint would become chronically wobbly and unstable even after rehab.  Eventually, your ankle might require a surgical repair to fix the damage.  You need to go to an Ocean County ankle specialist if you have severe pain or swelling; have a severe deformity or open wound; have signs of infection, like warmth, redness, and tenderness in the sprained area, or a fever greater than 37.8 C.  You would also need to see a specialist if you can't put weight on your foot.
Looking for an Excellent Ankle Specialist in the Ocean County, NJ Area?
Are you looking for an ankle specialist for your ankle injury? Dr. Manooj Prasad at Garden State Foot & Ankle Group of Toms River is a highly-experienced podiatrist with an ardent mission to help those suffering from foot, ankle, and lower leg issues. He offers personalized care while considering each patient's individual lifestyle needs so that the best possible treatment can be administered. Service towns in the Ocean County, NJ area include Toms River, Manchester, Manahawkin, Brick, Point Pleasant, Jackson, Lakehurst, Beachwood, Berkeley, Seaside Heights, Lavallette, Stafford, Bay Head, Plumsted, Little Egg Harbor, Pine Beach, and many more! For more information, you can contact us today at (732) 557-9900 or explore our website.