The foot and ankle are vital to everyday mobility, as well as sports and activities that require running, jumping, and quick directional changes.  Given the complexity of the foot and ankle – which consist of more than 100 intricately connected tendons, ligaments, muscles, and bones, and 33 distinct joints – treating conditions and injuries affecting these structures requires attention from podiatrists and Garden State foot and ankle specialists are fellowship-trained to specialize in issues of the foot and ankle.
Essex County Foot & Ankle Specialists | Non-Surgical Methods for Foot and Ankle Pain
Acupuncture:
Apart from the conventional treatments for ankle sprains, some complementary and alternative therapies such as acupuncture have been used to help alleviate pain, reduce swelling, and speed up the recovery, but the evidence is limited.  As the efficacy of acupuncture for treating ankle sprains is optimistic but the evidence is limited, a critical examination of the evidence for the use of acupuncture for ankle sprains is warranted.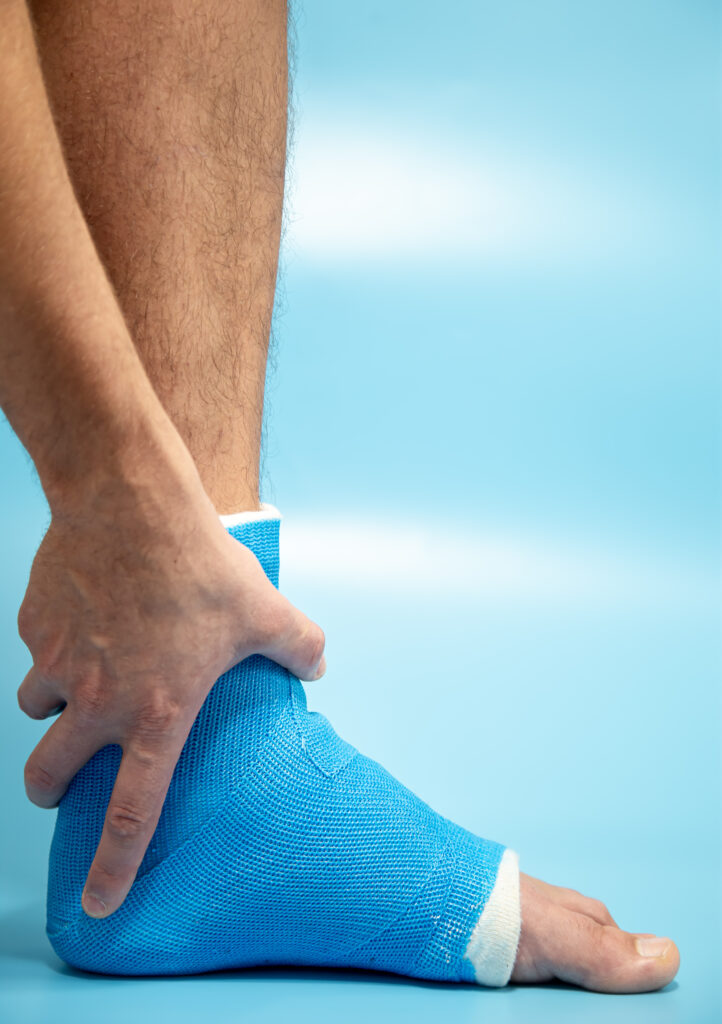 Oral and Topical Anti-inflammatory Medication:
The American College of Rheumatology recommends topical a NSAID as a first treatment for osteoarthritis (OA) pain, especially of the knees.  And authors of a 2021 systematic review and meta-analysis in The Physician and Sports medicine conclude, "It should be recommended to patients as a first-line conservative management for OA of the knee."  However, a 2016 Cochrane review looked at 39 studies with 10,631 participants and found that only about 10% more people get OA pain relief from topical diclofenac than from placebo.  So, they may not provide sufficient relief for everyone, but it's a good idea to try them before oral medications, and they are a good option for those who can't or don't want to take oral NSAIDs.
Topical diclofenac should not be used in combination with oral NSAIDs or aspirin because of the potential for adverse effects.  The gel's active ingredient still gets into your bloodstream, so you have to consider the total amount you're getting from every route.
Arch Supports
Your insoles may be hurting your feet because they're not the right arch height, are too rigid or too flexible, are not the right style for your footwear, or the arch placement isn't working for your feet.  For insoles that don't hurt your feet, look for ones that offer a choice of arch heights.
Bracing
Wearing an ankle brace can provide support for your foot and ankle.  This support can help to reduce pain and prevent further injury.  Ankle braces are often used to treat chronic conditions such as tendonitis, arthritis, and instability.
Cortisone Injections
A steroid injection — or cortisone shot — reduces swelling, stiffness and pain in your foot and ankle.  The steroid acts like the natural hormones that your body makes to stop inflammation.  It's a non-invasive, non-surgical treatment.  Cortisone shots commonly cause a temporary flare in pain and inflammation for up to 48 hours after the injection.  After that, your pain and inflammation of the affected joint should decrease and can last up to several months.
Custom Orthotics
Foot orthotics can help reduce foot pain caused by medical conditions such as arthritis, bunions, plantar fasciitis, flat feet, and diabetes.  These foot devices can offset stress levels as pressure is exerted on them allowing your feet to function properly.  Improper design or fit is one of the top reasons for foot pain from orthotics.  If you have an improperly fitting foot orthosis, it is often because you have chosen an off-the-shelf solution that does not fit your specific foot shape correctly.
PRP Injections (Platelet-rich Plasma Injections)
They often use this treatment for foot and ankle conditions.  PRP has higher concentrations of substances that encourage your body to grow new tissue.  This may help your body do a better job of recovering from certain injuries or conditions.  PRP injections may reduce pain and get your muscles moving more smoothly.  PRP injections have been used to treat tendon, ligament, cartilage and bone injuries, as well as arthritis.  Around the foot and ankle, PRP is used for treatment of tendon and ligament injuries such as plantar fasciitis and Achilles tendinitis.
Physical Therapy
Physical therapy can be used with other forms of non-surgical treatment to help increase strength, flexibility, and function of the foot or ankle, promote recovery, and decrease the potential for re-injury and future problems
Splints
Bracing and splints can be used to immobilize parts of the foot or ankle and facilitate healing, especially in cases involving fractures or sprains.  Bracing and splints can be used in conjunction with weight-bearing and activity restrictions, the use of crutches or walking devices, and a gradual return to activity.
Shoe modifications
Some foot and ankle conditions may be treated by modifying footwear to relieve pressure and inflammation and reduce pain.  Through the use of biomechanics, which combines the study of biology with mechanics of motion, custom orthotics such as insoles and arch supports can also aid in improving stability, reducing stress and strain, and maintaining proper positioning of bones and soft tissue.
Taping
In many cases, we begin treating patients with conservative care and non-surgical approaches to reduce pain and improve mobility without surgery. These treatments focus on helping patients manage pain and symptoms, as well as addressing underlying conditions, deformities, and instability without invasive surgery.
Problems affecting the foot and ankle can cause pain and limited mobility that reduce one's activity level or sideline them from the sports they enjoy, seeking early medical attention, diagnosis, and effective treatment is critical to getting back on your feet.
Looking for Reputable Foot and Ankle Specialists in the Essex County, New Jersey Area?
Are you looking for highly-experienced foot and ankle specialists in the Essex County area? Dr. Manooj Prasad at Garden State Foot & Ankle Group of Toms River is a highly-experienced podiatrist with an ardent mission to help those suffering from foot, ankle, and lower leg issues. He offers personalized care while considering each patient's individual lifestyle needs so that the best possible treatment can be administered. Service towns in the Essex County, NJ area include Short Hills, Cedar Grove, West Caldwell, Belleville, Montclair, Essex Fells, North Caldwell, West Orange, Upper Montclair, Livingston, Millburn, Maplewood, and many more! For more information, you can contact us today at (732)557-9900 (Toms River) 973)450-3035 (Belleville) or explore our website.