Diabetes is a chronic condition that affects millions of people worldwide, and one of its most serious complications is the development of diabetic wounds. These wounds, often slow to heal, can lead to severe complications if not managed properly. In Toms River, New Jersey, finding the right diabetic wound care specialist is crucial for individuals living with diabetes. This article aims to guide you through the process of choosing the right Toms River diabetic wound care specialist to ensure you receive the best possible care.
Choosing a Great Toms River Diabetic Wound Care Specialist
Evaluate Their Credentials:
When searching for a diabetic wound care specialist in Toms River, the first step is to assess their credentials and qualifications. Look for a specialist who is board-certified in wound care and has specific training and experience in managing diabetic wounds. Check if they are affiliated with reputable medical institutions and hospitals in the area. It's essential to have confidence in your specialist's knowledge and expertise to ensure the best outcomes for your condition.
Consider Their ExperienceL
Experience is a critical factor in choosing the right diabetic wound care specialist. Diabetic wounds can be complex and vary in severity, so selecting a specialist with years of experience can make a significant difference in your treatment. Ask about the number of diabetic wound cases they have handled and their success rates. An experienced specialist is more likely to have encountered a variety of wound types and will have a deeper understanding of the best treatment approaches.
Verify Their Specialization:
While all wound care specialists have a general knowledge of treating wounds, it's important to find one with a specific focus on diabetic wound care. Diabetic wounds often have unique characteristics, such as impaired circulation and neuropathy, which require specialized treatment approaches. Ensure that the specialist you choose has expertise in diabetic wound management and stays up-to-date with the latest advancements in the field.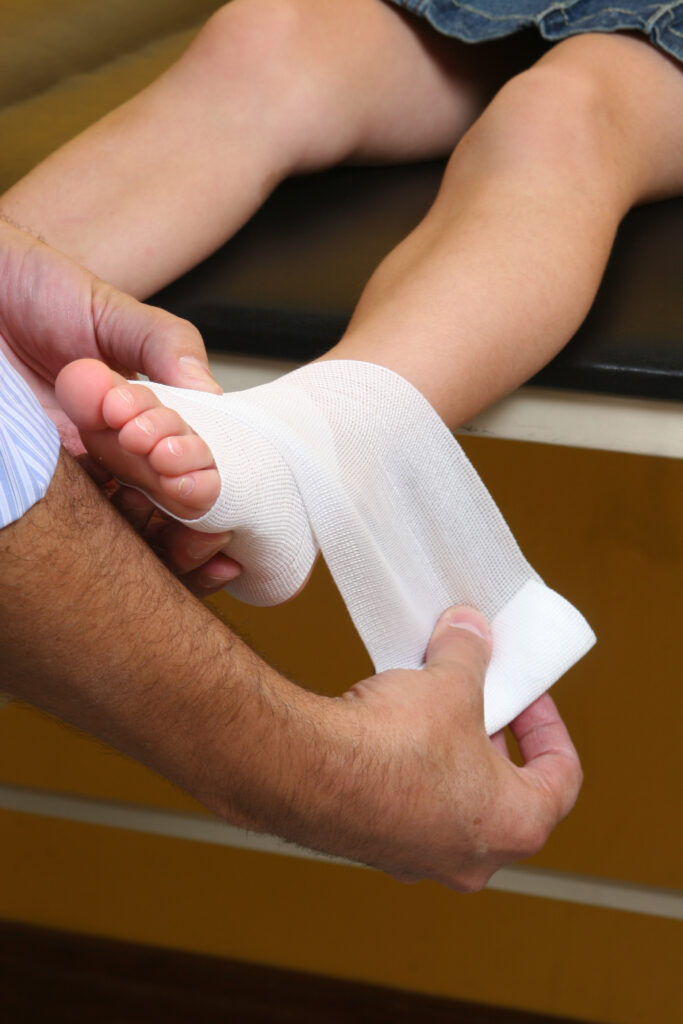 Check for Collaborative Approach:
Diabetic wound care is often a multidisciplinary effort. To receive comprehensive care, your chosen specialist should be open to collaborating with other healthcare professionals, such as endocrinologists, vascular surgeons, and podiatrists. A team approach can lead to more effective treatment plans and better overall outcomes for diabetic patients. Ask the specialist about their willingness to coordinate care with other healthcare providers.
Review Patient Reviews and Testimonials:
One of the best ways to gauge a diabetic wound care specialist's reputation and patient satisfaction is by reading reviews and testimonials from their previous patients. Look for online reviews, ask for referrals from friends or family who may have had similar experiences, or consult with your primary care physician for recommendations. Positive feedback from previous patients can provide valuable insights into the specialist's quality of care and bedside manner.
Assess Their Communication Skills:
Effective communication is crucial in any healthcare relationship. You should feel comfortable discussing your concerns, asking questions, and understanding your treatment plan. During your initial consultation, pay attention to how the specialist interacts with you. Are they attentive, empathetic, and willing to address your concerns? Clear and open communication is essential for successful diabetic wound care management.
Evaluate the Facility and Technology:
Take the time to visit the facility where the diabetic wound care specialist practices. Ensure that it is well-equipped with the latest technology and resources necessary for wound care management. A modern and well-maintained facility can contribute to more efficient and effective treatment. In addition, inquire about the availability of telemedicine options, which can be beneficial for ongoing consultations and follow-up appointments.
Inquire About Insurance and Payment Options:
Before making a final decision, it's essential to discuss insurance coverage and payment options with the specialist's office. Verify whether they accept your insurance plan and understand the costs associated with your treatment. If you have any financial concerns, inquire about payment plans or financial assistance programs that may be available. Clear information about the financial aspects of your care can help you make an informed decision.
Trust Your Instincts:
Ultimately, choosing the right Toms River diabetic wound care specialist is a personal decision. Trust your instincts and choose a specialist with whom you feel comfortable and confident. Establishing a trusting and collaborative relationship with your healthcare provider is essential for your overall well-being.
Selecting the right Toms River diabetic wound care specialist is a crucial step in managing your diabetes and preventing complications. By evaluating their credentials, experience, specialization, collaborative approach, patient reviews, communication skills, facility, insurance coverage, and your own instincts, you can make an informed decision about your healthcare provider. Remember that diabetic wound care is a long-term commitment, so choosing a specialist who understands your unique needs and provides exceptional care is vital for your health and well-being. Don't hesitate to take the time to research and find the specialist who best meets your requirements and offers the highest level of care for your diabetic wounds.
Looking for the Best Diabetic Wound Care Specialist in Toms River, NJ?
Dr. Manooj Prasad at Garden State Foot & Ankle Group of Toms River is a highly experienced podiatrist with an ardent mission to help those suffering from foot, ankle, and lower leg issues. He offers personalized care while considering each patient's individual lifestyle needs so that the best possible treatment can be administered. Based in both Essex County and Ocean County in New Jersey, service towns include Jackson, Belleville, Roseland, Point Pleasant, Cedar Grove, Livingston, Millburn, Short Hills, Lakewood, Ocean Gate, Lakehurst, Toms River, Montclair, and many more! For more information, you can contact us today at (732)557-9900 (Toms River) 973)450-3035 (Belleville) or explore our website.