Diabetic neuropathy is nerve damage that can occur in people with diabetes.  Different types of nerve damage cause different symptoms. Symptoms can range from pain and numbness in your feet to problems with the functions of your internal organs, such as your heart and bladder.  Diabetic neuropathy is nerve damage that is caused by diabetes.  Over time, high blood glucose levels, also called blood sugar, and high levels of fats, such as triglycerides, in the blood from diabetes can damage your nerves.  Symptoms depend on which type of diabetic neuropathy you have.
What is Peripheral Neuropathy?
Peripheral neuropathy is a type of nerve damage that typically affects the feet and legs and sometimes affects the hands and arms.  This type of neuropathy is very common. Up to one-half of people with diabetes have peripheral neuropathy.  Over time, high blood glucose, also called blood sugar, and high levels of fats, such as triglycerides, in the blood from diabetes can damage your nerves and the small blood vessels that nourish your nerves, leading to peripheral neuropathy.
What are the Symptoms of Peripheral Neuropathy?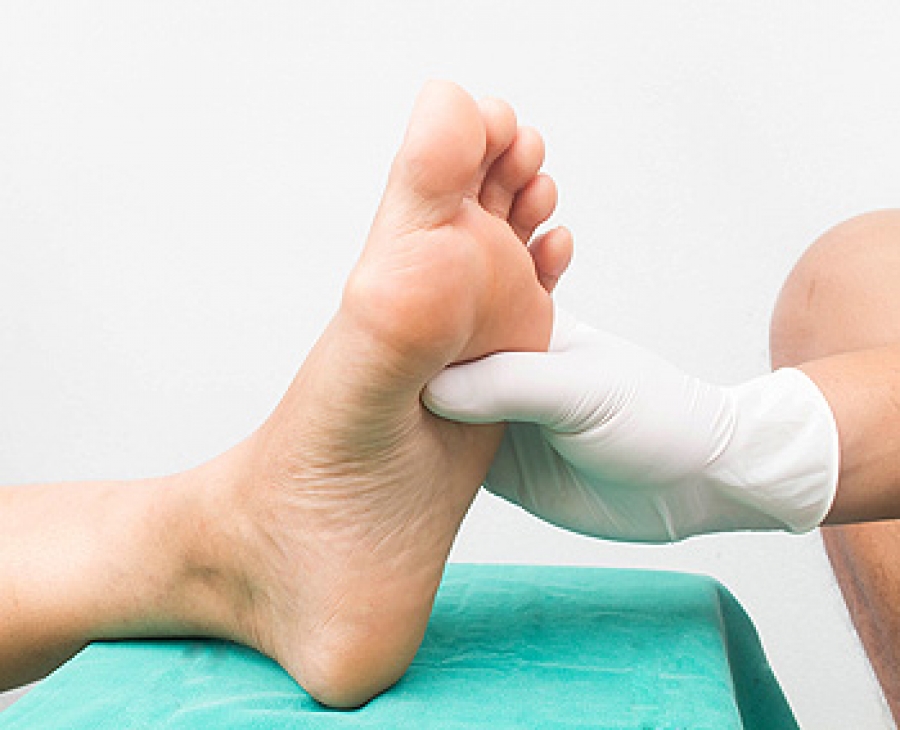 If you have peripheral neuropathy, your feet, legs, hands, or arms may feel
burning
tingling, like "pins and needles"
numb
painful
weak
You may feel extreme pain in your feet, legs, hands, and arms, even when they are touched lightly.  You may also have problems sensing pain or temperature in these parts of your body.
Symptoms are often worse at night.  Most of the time, you will have symptoms on both sides of your body.  However, you may have symptoms only on one side.  If you have peripheral neuropathy, you might experience:
changes in the way you walk
loss of balance, which could make you fall more often
loss of muscle tone in your hands and feet
pain when you walk
problems sensing movement or position
swollen feet
What problems does peripheral neuropathy cause?
Peripheral neuropathy can cause foot problems that lead to blisters and sores.  If peripheral neuropathy causes you to lose feeling in your feet, you may not notice pressure or injuries that lead to blisters and sores.  Diabetes can make these wounds difficult to heal and increase the chance of infections.  These sores and infections can lead to the loss of a toe, foot, or part of your leg.  Finding and treating foot problems early can lower the chances that you will develop serious infections.
Peripheral neuropathy can make you more likely to lose your balance and fall, which can increase your chance of fractures and other injuries.  The chronic pain of peripheral neuropathy can also lead to grief, anxiety, and depression.  This type of diabetes-related nerve damage can also cause changes to the shape of your feet and toes.  A rare condition that can occur in some people with diabetes is Charcot's foot, a problem in which the bones and tissue in your foot are damaged.
How do doctors diagnose peripheral neuropathy?
Doctors diagnose peripheral neuropathy based on your symptoms, family and medical history, a physical exam, and tests.  A physical exam will include a neurological exam and a foot exam.
If you have diabetes, you should get a thorough exam to test how you feel in your feet and legs at least once a year.  During this exam, your doctor will look at your feet for signs of problems and check the blood flow and feeling, or sensation, in your feet by  placing a tuning fork against your great toes and higher on your feet to check whether you can feel vibration touching each foot and some toes with a nylon strand to see if you can feel it—a procedure called a monofilament test reviewing your gait, or the patterns you make when you walk testing your balance.  Your doctor may also check if you can feel temperature changes in your feet.
Your doctor may perform tests to rule out other causes of nerve damage, such as a blood test to check for thyroid problems, kidney disease, or low vitamin B12. If low B12 levels are found, your doctor will do additional tests to determine the cause. Metformin use is among several causes of low vitamin B12 levels.  If B12 deficiency is due to metformin, metformin can be continued with B12 supplementation.
Foot Care:

If you have diabetes, check your feet for problems every day and take good care of your feet. If you notice any foot problems, call or see your doctor right away.  Remove your socks and shoes when in the exam room to remind your doctor to check your feet at every office visit.  See your doctor for a foot exam at least once a year—more often if you have foot problems.
Tips to Take Care of Your Feet
Check your feet every day.
Wash your feet every day.
Smooth corns and calluses gently.
Trim your toenails straight across.
Wear shoes and socks at all times.
Protect your feet from hot and cold.
Keep the blood flowing to your feet.
Get a foot check at every health care visit.
Looking for an Experienced Podiatrist for Diabetic Neuropathy Treatment in Essex County or Ocean County New Jersey?
Dr. Manooj Prasad at Garden State Foot & Ankle Group of Toms River is a highly-experienced podiatrist with an ardent mission to help those suffering from foot, ankle, and lower leg issues. He offers personalized care while considering each patient's individual lifestyle needs so that the best possible treatment can be administered. Based in both Essex County and Ocean County in New Jersey, service towns include Jackson, Belleville, Roseland, Point Pleasant, Cedar Grove, Livingston, Millburn, Short Hills, Lakewood, Ocean Gate, Lakehurst, Toms River, Montclair, and many more! For more information, you can contact us today at (732)557-9900 (Toms River) 973)450-3035 (Belleville) or explore our website.