Montclair Foot/Ankle Doctor
Top Podiatrist in Montclair, NJ
Podiatrist in Montclair, New Jersey
Are you looking for a highly-experienced and knowledgeable Montclair foot and ankle doctor? If so, look no further than Garden State Foot & Ankle Group of Toms River with Dr. Manooj Prasad leading the way! Our Montclair foot and ankle specialists consider your feet as important priority: whether it's routine care or treatment for diabetes-related issues or any wound care needs, rest assured that all members of our team are certified by the New Jersey Board in foot and ankle surgery. Rely on Garden State Foot & Ankle Group of Toms River for all your podiatry needs, knowing that you'll receive outstanding service with each and every "step" forward!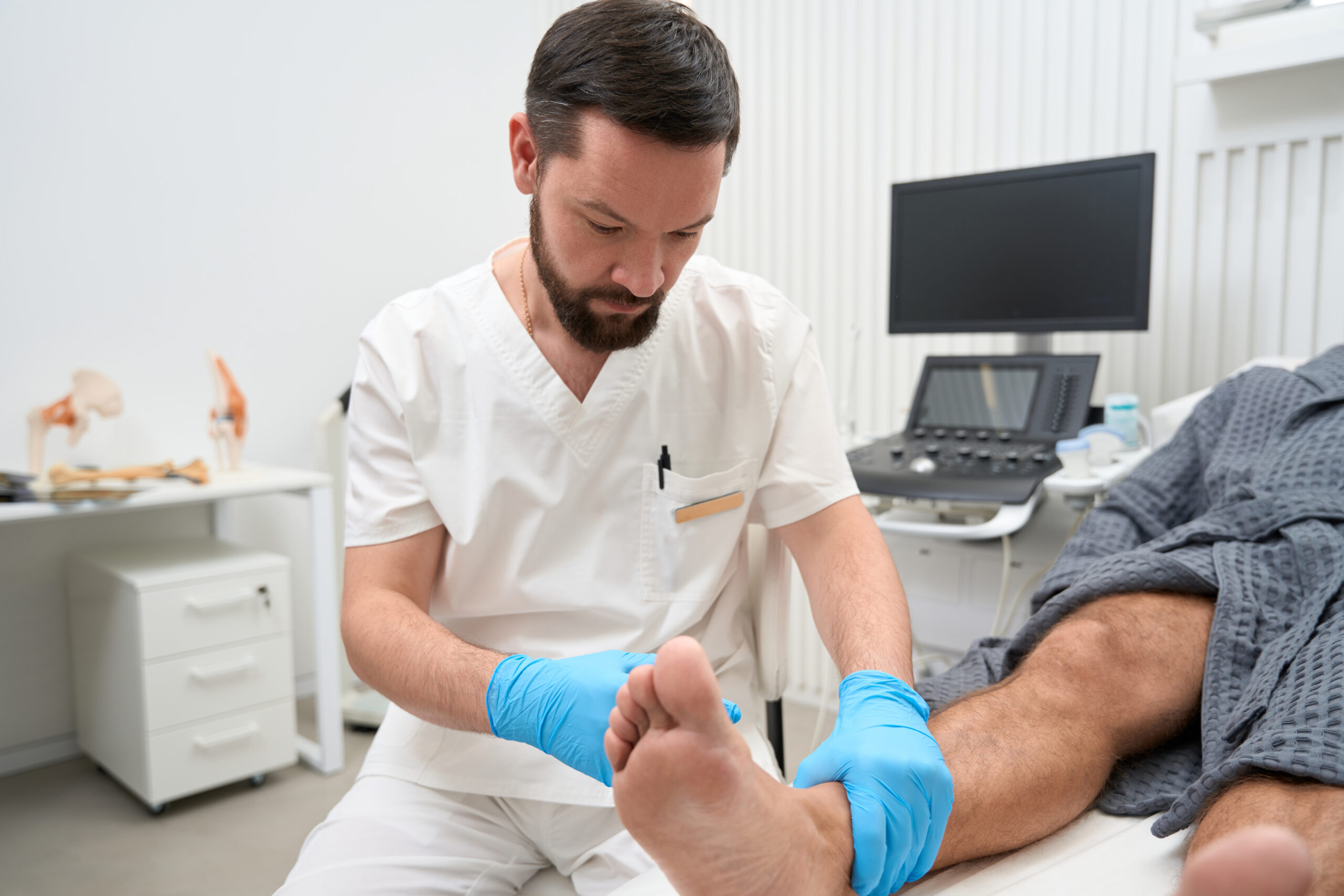 At Garden State Foot & Ankle Group of Toms River, we are passionate about helping our patients reach their highest health potential. Our Montclair foot and ankle specialists possess extensive knowledge in diagnosing, treating, and managing a variety of conditions from diabetic disorders to intricate anatomical structures. Regardless of age or circumstance, you can count on receiving the most effective treatment plan for your feet with us! You can rest assured that your treatment will be effective so you can find relief right away. Whatever issue your feet may be facing, we've got you covered!
Don't take your feet for granted – serious issues and even amputation may arise from diabetic individuals' lack of foot care. You must be proactive in order to prevent expensive, painful problems in the future; don't ignore them any longer! Foot health is essential not only physically, but mentally too – invest time into caring for them now so you can reap the benefits later on.
Our Montclair, NJ Podiatry Services Include Treatments For:
Bunions

Calluses

Achilles' tendon

Ankle Instability

Athletes Foot

Ankle Sprains

Corns

Diabetic Foot

Flat Feet

Fungus Toenails
Injuries

Neuromas

Plantar Fasciitis

Geriatric Foot Care

Hammertoes

Heel Spurs

Arthritic Foot and Ankle Care

Ingrown toenails

Warts
Should You Visit a Montclair NJ Podiatrist?
If you're having issues, don't just continue to endure the pain! Take action now and book an appointment with a Montclair podiatrist to get treated for sports injuries, joint pains, arthritis or even skin conditions such as warts or ulcers. Doing so ensures that your feet will stay healthy in the long run and you can start feeling some much needed relief immediately.
Contact the Montclair Foot and Ankle Professionals at Garden State Foot & Ankle Group of Toms River
When it comes to helping those with foot, ankle and lower leg issues, Dr. Manooj Prasad is an esteemed podiatric doctor and surgeon serving the Montclair, NJ area who stands out for his passion and dedication towards patients. His treatment plans are tailored according to each patient's lifestyle which makes him highly effective in providing the best personalized care possible. He also offers both non-surgical as well as surgical solutions for any issue that may arise pertaining to the feet, ankles or legs of a person. Dr. Prasad stands apart from the competition due to his unique qualifications—he is one of a select few surgeons in the Essex County, NJ area that is certified in STAR Total Ankle Joint Replacement for treating severe ankle arthritis. Moreover, his advanced wireless hammer toe correction surgery harnesses cutting-edge technology to provide quicker recovery and superior outcomes. Other service towns in the Montclair, NJ area include Livingston, Maplewood, Cedar Grove, Short Hills, Millburn, West Caldwell, Montclair, South Orange, West Orange, Fairfield, Verona, Essex Fells, Glen Ridge, Roseland, North Caldwell and many more! For more information, you can contact us today at (973)450-3035 or explore our website.